Buckeye Bits E-Newsletter: April 18, 2019
Apr 18, 2019
April Happy Hour
Join OSUDC for our monthly happy hour! TONIGHT, Thursday, April 18, we'll be at James Hoban's Irish Restaurant in Dupont Circle. Mix, mingle, and network with fellow Buckeye alumni in the DC area. See you there!
---

The Indiana Chapter of DC would like to open up an event they planned to the greater B1G community:

Master Strategies to Improve your Public Speaking
When: Tuesday, April 23, 2019, 6:30pm – 7:30pm
Where: Indiana University office, Willard Office Bldg, 1455 Pennsylvania Ave NW
RSVP: jeff@theangkorgroup.com
*No cost to attend

This workshop will discuss 7 strategies to improve your public speaking. Your ability to deliver a dynamic and memorable presentation continues to be an important skill that employers want you to master. Public speaking, in some form, is a daily occurrence. We will discuss strategies to improve your confidence, organization, content, delivery, connecting with the audience, and overcoming nervousness.

Presenter: Jeff McKinney has over 20 years of experience in professional development. He's taught at the undergraduate and graduate level, led workshops and now owns his own consulting/coaching/training business.

---
In Christy's Shoes
DMV Sole Celebration
Please join OSUDC and In Christy's Shoes on April 28th at the 2019 DMV Sole Celebration! In our effort to give back to the OSU community in the Greater Washington, D.C. Metro Area, OSUDC has teamed up with In Christy's Shoes, a Columbus based charity, as a community partner. In Christy's Shoes mission is to raise awareness and funds for programs that support women who are experiencing homelessness, unemployment, domestic abuse, substance abuse, human trafficking, and brain cancer.
Even though In Christy's Shoes is Columbus based all of the funds raised at the DMV Sole Celebration stay in the DMV. They are distributed to Doorways for Women and Families, The Alliance of Creative Professional Women, and The Women's Home. Additionally, In Christy's Shoes will be providing scholarship funds to help a student from the DC metro area who is looking to pursue studies at OSU that align with their mission.
The DMV Sole Celebration is a wonderful event that combines shoe fashion and fundraising while celebrating the life of one woman who continues to inspire others to walk in their shoes with confidence, strength, and stability. Please take a few minutes to learn more about In Christy's Shoes as this organization and its founders are a true inspiration. Use this link to purchase tickets.

---
DC United vs. Columbus Crew
Join fellow OSU alumni as D.C. United takes on the Columbus Crew at 8pm on Saturday, May 4! A portion of the ticket will support The Ohio State Alumni Club of Greater Washington, D.C. Click here to buy your tickets now!
Ohio State University Alumni Night at Audi FieldAudi Field100 Potomac Ave SW, Washington, DC 20024Sat, May 4, 8:00 PM$50

---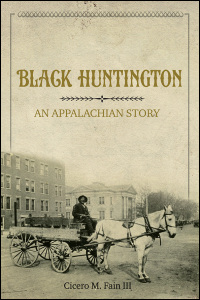 Black Huntington Book Event
Join OSUDC and Dr. Cicero M. Fain III for a book event at Vivid Lounge at noon on Saturday, May 18. This event is FREE for OSUDC members; for non-members, cost to attend is $10/person, $20/family. Please register in advance on Eventbrite.
Not a member? Join OSUDC now!

By 1930, Huntington had become West Virginia's largest city. Its booming economy and relatively tolerant racial climate attracted African Americans from across Appalachia and the South. Prosperity gave these migrants political clout and spurred the formation of communities that defined black Huntington—factors that empowered blacks to confront institutionalized and industrial racism on the one hand and the white embrace of Jim Crow on the other.
Cicero M. Fain III illuminates the unique cultural identity and dynamic sense of accomplishment and purpose that transformed African American life in Huntington. Using interviews and untapped archival materials, Fain details the rise and consolidation of the black working class as it pursued, then fulfilled, its aspirations. He also reveals how African Americans developed a host of strategies—strong kin and social networks, institutional development, property ownership, and legal challenges—to defend their gains in the face of the white status quo.Dr. Cicero M. Fain III is a professor of history at the College of Southern Maryland. He completed his PhD in American History at The Ohio State University in 2010.

---

OSUDC's New Membership Method Is Here!
Recently The Ohio State Alumni Association unveiled a new method for alumni clubs and societies to collect membership dues. After a lot of careful consideration, OSUDC decided that this new method was beneficial both to the club, its current members, and all other alumni in the DC/Maryland/Virginia area. This new method will make your Club dues both tax deductible and count towards your OSUAA sustaining membership, which makes you eligible for football tickets and other great benefits. This new membership method is now in place! Click here for more information or to join/renew!

---
Ohio State Alumni Softball
It's almost softball time! We are currently forming our team for the 2019 season of Capital Alumni Network softball, and we want YOU. It is a coed league, and the season runs April-July (14 games) with a tournament in August. For more information or to join us this season, email Renita at athletics@osudc.org. Go Bucks!

---
Upcoming Events Calendar
Keep up with all of our upcoming events on our website! You can easily export the events you're interested in attending to iCal or Google Calendar.