Buckeye Bits E-Newsletter: May 2, 2019
May 2, 2019
DC United vs. Columbus Crew
Join fellow OSU alumni as D.C. United takes on the Columbus Crew at 8pm this Saturday, May 4! A portion of the ticket will support The Ohio State Alumni Club of Greater Washington, D.C. Click here to buy your tickets now! Tickets will be available to purchase via this special link until 12:00pm TODAY, so you have less than an hour to secure your seats in our section!
Ohio State University Alumni Night at Audi Field
Audi Field
100 Potomac Ave SW, Washington, DC 20024
Sat, May 4, 8:00 PM
$50

Join us at Bardo Brewing for a pregame gathering!
DC Buckeyes and friends are invited to join the Charm City Crew Supporters Group (representing Crew fans from Baltimore to Richmond) & NorOnTour (traveling Crew fans) for a pregame gathering at Bardo Brewing, located at Potomac Ave SE and S Capitol Street, directly across from the Home Plate Gate of Nationals Park (about 1/2 mile from Audi Field). Bardo will open early at 4pm for us! This event is FREE to attend (cash bar), please register in advance so they know how many people to expect.

---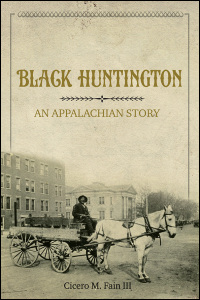 Black Huntington Book Event
Saturday, May 18, 2019
Vivid Lounge, U Street
Noon
Join OSUDC and Dr. Cicero M. Fain III for a book event at Vivid Lounge at noon on Saturday, May 18. This event is FREE for OSUDC members; for non-members, cost to attend is $10/person, $20/family. Please register in advance on Eventbrite.
Not a member? Join OSUDC now!

By 1930, Huntington had become West Virginia's largest city. Its booming economy and relatively tolerant racial climate attracted African Americans from across Appalachia and the South. Prosperity gave these migrants political clout and spurred the formation of communities that defined black Huntington—factors that empowered blacks to confront institutionalized and industrial racism on the one hand and the white embrace of Jim Crow on the other.
Cicero M. Fain III illuminates the unique cultural identity and dynamic sense of accomplishment and purpose that transformed African American life in Huntington. Using interviews and untapped archival materials, Fain details the rise and consolidation of the black working class as it pursued, then fulfilled, its aspirations. He also reveals how African Americans developed a host of strategies—strong kin and social networks, institutional development, property ownership, and legal challenges—to defend their gains in the face of the white status quo.Dr. Cicero M. Fain III is a professor of history at the College of Southern Maryland. He completed his PhD in American History at The Ohio State University in 2010.

---

Lifelong Learning with Marcy Kaptur
Ohio State alumni and friends have been invited to attend this event from the Wisconsin Alumni Association, featuring Marcy Kaptur, who serves Ohio's Ninth Congressional District and is currently serving her 19th term in the House of Representatives. She's also the dean of Ohio's congressional delegation and the longest-serving woman in the House. Rep. Kaptur was recently the keynote speaker at the Scarlet and Gray Congressional Breakfast on April 3. Please join Buckeyes and Badgers at this event on Thursday, May 9! To register, click here.

May 9, 6:00PM – 8:00PM
Register
Hall of States, Room 333, 444 N. Capitol Street NW, Washington, DC
Cost: $25
As part of the Wisconsin Alumni Association's commitment to engage with local alumni and celebrate alumni who make a difference in our community, the DC Badgers are excited to announce a Lifelong Learning Series to create transformative and meaningful learning experiences for alumni living in the Washington, DC, area. In alignment with the University of Wisconsin–Madison's strategic plan Lifelong Learning 2020, we are thrilled to engage and advocate for lifelong learners through high-quality and innovative programs and services.
This event features a conversation with UW-Madison alumna Marcy Kaptur '68 about politics past, present, and future. Congresswoman Kaptur will speak with alumna Wendy Riemann '02 of 1492 Communications about serving as a woman in Congress throughout various decades, the current state of politics, and the 2020 elections.
6 p.m. Doors open and alumni mingling
6:30 p.m. Conversation and interview with Congresswoman Kaptur
7:15 p.m. Q & A with Congresswoman Kaptur
7:30 p.m. Alumni mingling
The cost of this event is $25 for all alumni and guests and includes light appetizers and two drink tickets. All proceeds from the event will support the DC Badgers Scholarship Fund to increase access to UW–Madison through need-based scholarships. Register here.
---
College of Social Work Fly-In Reception
Tuesday, May 21, 2019
2043 Rayburn House, Capitol Hill
5:30–7:30pm
The College of Social Work is bringing a select group of students to Capitol Hill to advocate for social work issues. Through visits with our elected officials and interactions with the legislative process, we are training the next generation of social work advocates.
RSVP by May 10 to Megan Ruetsch
at ruetsch.2@osu.edu
---
Buckeyes In Law
Wednesday, May 22, 2019
Fado Irish Pub, Chinatown
6pm

Are you a Moritz alum or current student? Did you graduate from Ohio State undergrad and go on to attend law school elsewhere? Join us for the first Buckeyes in Law event at Fado Irish Pub on Wednesday, May 22! This is a chance for Buckeye Lawyers from around the DMV to connect with one another, along with students from the Moritz D.C. Summer Program. Please register in advance on Eventbrite.

---

OSUDC's New Membership Method Is Here!
Recently The Ohio State Alumni Association unveiled a new method for alumni clubs and societies to collect membership dues. After a lot of careful consideration, OSUDC decided that this new method was beneficial both to the club, its current members, and all other alumni in the DC/Maryland/Virginia area. This new method will make your Club dues both tax deductible and count towards your OSUAA sustaining membership, which makes you eligible for football tickets and other great benefits. This new membership method is now in place! Click here for more information or to join/renew!

---
CAN Annual Golf Tournament
The CAN Annual Golf Tournament will be held May 18, 2019 at South Riding Golf Club in South Riding, VA with a 12:00pm (NOON) shotgun start. The cost is $120 per golfer, which includes greens and cart fees, post-round buffet dinner, lots of beer, water, Gatorade and soda, and a CAN swag gift you're sure to love.

1st place for each tier determined after play; three total teams will win money towards their sponsoring school's scholarship fund.Each team must be made up of 50% alumni rule from sponsoring school. Each team must be made up of 50% alumni rule from sponsoring school (no gender restrictions).
Register now on the CAN website!


---
Ohio State Alumni Softball
It's softball time! Our 2019 season of Capital Alumni Network softball has begun, but there's still time to join! It is a coed league, and the season runs April-July (14 games) with a tournament in August. For more information or to join us this season, email Renita at athletics@osudc.org. Go Bucks!

---
Upcoming Events Calendar
Keep up with all of our upcoming events on our website! You can easily export the events you're interested in attending to iCal or Google Calendar.