Buckeye Bits E-Newsletter: May 9, 2019
May 9, 2019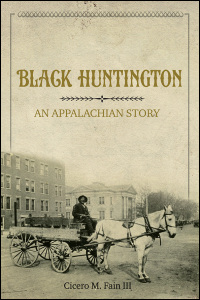 Black Huntington Book Event
Saturday, May 18, 2019
Vivid Lounge, U Street
Noon
Join OSUDC, WVU alumni, and Dr. Cicero M. Fain III for a book event at Vivid Lounge at noon on Saturday, May 18. This event is FREE for OSUDC members and WVU alumni; for non-members, cost to attend is $10/person, $20/family. Please register in advance on Eventbrite.
Not a member? Join OSUDC now!

By 1930, Huntington had become West Virginia's largest city. Its booming economy and relatively tolerant racial climate attracted African Americans from across Appalachia and the South. Prosperity gave these migrants political clout and spurred the formation of communities that defined black Huntington—factors that empowered blacks to confront institutionalized and industrial racism on the one hand and the white embrace of Jim Crow on the other.
Cicero M. Fain III illuminates the unique cultural identity and dynamic sense of accomplishment and purpose that transformed African American life in Huntington. Using interviews and untapped archival materials, Fain details the rise and consolidation of the black working class as it pursued, then fulfilled, its aspirations. He also reveals how African Americans developed a host of strategies—strong kin and social networks, institutional development, property ownership, and legal challenges—to defend their gains in the face of the white status quo.Dr. Cicero M. Fain III is a professor of history at the College of Southern Maryland. He completed his PhD in American History at The Ohio State University in 2010.

---

Call for Volunteers
This Saturday, May 11 is the annual Stamp Out Hunger food drive, and Food For Others in Merrifield is looking for volunteers! Can you (or someone you know!) drive a 19′ box truck? Volunteers are needed at Food For Others this Saturday, May 11 between 4pm and 7pm. Please email volunteer@foodforothers.org for more information!
Food For Others
2938 Prosperity Avenue
Fairfax, VA 22031
Saturday, May 11, 2019
4pm – 7pm
---
College of Social Work Fly-In Reception
Tuesday, May 21, 2019
2043 Rayburn House, Capitol Hill
5:30–7:30pm
The College of Social Work is bringing a select group of students to Capitol Hill to advocate for social work issues. Through visits with our elected officials and interactions with the legislative process, we are training the next generation of social work advocates.
RSVP by May 10 to Megan Ruetsch
at ruetsch.2@osu.edu
---
Buckeyes In Law
Wednesday, May 22, 2019
Fado Irish Pub, Chinatown
6pm

Are you a Moritz alum or current student? Did you graduate from Ohio State undergrad and go on to attend law school elsewhere? Join us for the first Buckeyes in Law event at Fado Irish Pub on Wednesday, May 22! This is a chance for Buckeye Lawyers from around the DMV to connect with one another, along with students from the Moritz D.C. Summer Program. Please register in advance on Eventbrite.

Dailey Cycle with Melissa Wasser
The Dailey Method DC Barre + Cycle
1201 U Street Northwest #300
Washington, DC 20009
Saturday, May 25, 12:30pm
Sunday, May 26, 6:30pm
Join your fellow Buckeyes for a spinning class at The Dailey Method taught by OSUDC Game Day Chair Melissa Wasser! Our cycle classes bring The Dailey Method's signature focus on alignment from the barre to the bike. In each heart-pumping, beat-driven class, you'll sculpt your body and strengthen your core while enjoying the benefits of a cardio workout. Socks (grip or non-grip) and tennis shoes are required for this class. The bikes take cycling shoes with SPD clips only. The class is free to OSUDC members and $5 to non-members.
Two dates and times are available: Saturday, May 25, at 12:30pm, or Sunday, May 26, at 6:30pm. Both classes are Dailey Cycle (40m cycling, 20m barre). No experience is necessary, all skill levels welcome! Click here to register now.

---

OSUDC's New Membership Method Is Here!
Recently The Ohio State Alumni Association unveiled a new method for alumni clubs and societies to collect membership dues. After a lot of careful consideration, OSUDC decided that this new method was beneficial both to the club, its current members, and all other alumni in the DC/Maryland/Virginia area. This new method will make your Club dues both tax deductible and count towards your OSUAA sustaining membership, which makes you eligible for football tickets and other great benefits. This new membership method is now in place! Click here for more information or to join/renew!

---
CAN Annual Golf Tournament
The CAN Annual Golf Tournament will be held May 18, 2019 at South Riding Golf Club in South Riding, VA with a 12:00pm (NOON) shotgun start. The cost is $120 per golfer, which includes greens and cart fees, post-round buffet dinner, lots of beer, water, Gatorade and soda, and a CAN swag gift you're sure to love.

1st place for each tier determined after play; three total teams will win money towards their sponsoring school's scholarship fund.Each team must be made up of 50% alumni rule from sponsoring school. Each team must be made up of 50% alumni rule from sponsoring school (no gender restrictions).
Register now on the CAN website!


---
Ohio State Alumni Softball
It's softball time! Our 2019 season of Capital Alumni Network softball has begun, but there's still time to join! It is a coed league, and the season runs April-July (14 games) with a tournament in August. For more information or to join us this season, email Renita at athletics@osudc.org. Go Bucks!

---
Upcoming Events Calendar
Keep up with all of our upcoming events on our website! You can easily export the events you're interested in attending to iCal or Google Calendar.